Iklan Custom Bulu Sail Flags Banners:
Bendera Bulu kami termasuk bendera cetak, tiang set & tas Base and Carry. Mudah untuk merakit dan stok. Kami yakin bisa mengatakan bahwa kami memiliki bendera bulu kualitas terbaik dengan pencetakan sublimasi pewarna ! Penuh warna kami, proses pencetakan berkualitas tinggi tidak ada duanya. Cetak meluas dari tepi ke ujung, termasuk lengan baju! Sepotong tiang 3 potong kami sangat kokoh dan dirancang dengan baik, koneksi plastik kuat di bagian tengah membuat tiang-tiangnya kuat di luar. Bulu Sail Flas di angin, membuat merek Anda beredar segera. Bendera bulu ini digunakan dalam pameran dagang, acara olahraga, open shop, kegiatan promosi dll.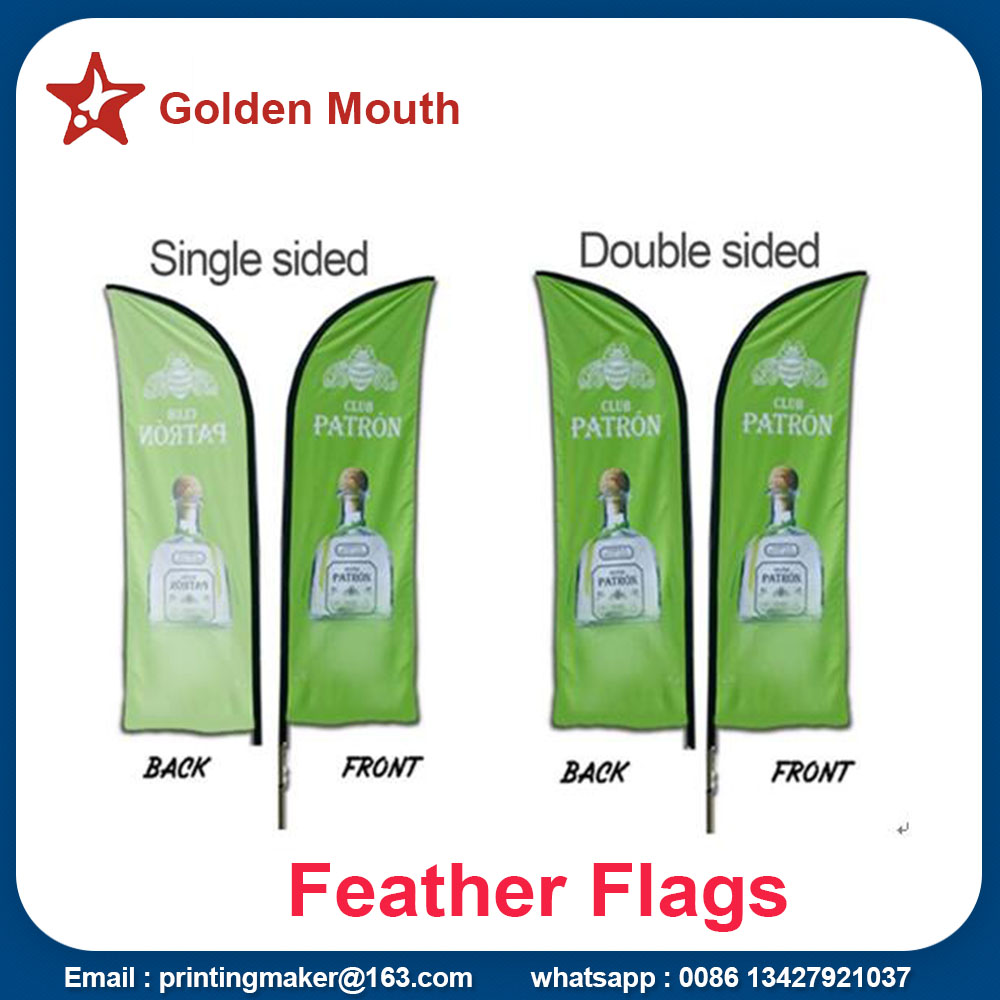 Spesifikasi:
Item




Size

2.8m, 3m, 3.4m,4m,4.5m,5m,5.5m

Flag Material

110g Knitted Fabric

satin fabric

Pocket Material

600D oxford fabric

elastic fabric

knitted fabric

Pole Material

Fiberglass pole +aluminum pole;

full fiberglass pole(3m flag,4m flag,5m flag)

Printing Types

Digital printing;

dye sublimation printing (this quality is better)

Printed sides of flag

Single or double sides

Base Choice

Metal across;aluminum cross ;ABS spike ;Chrome-plated iron spike

Packing

Each set has individual carry fabric bag

MOQ

1 set
Rincian Artwork:
Kirimkan kode warna CMYK

Email kami Pantone Anda untuk hasil terbaik dalam pencocokan warna

Resolusi harus 150 dpi atau lebih tinggi pada ukuran penuh

mengubah semua font menjadi garis besar

sematkan semua gambar dalam dokumen akhir
Cara mengirim file besar:
File di bawah 3MB dapat dikirim melalui email
Jika file-file itu banyak dan besar, silahkan kirim file zipnya
Anda dapat mengakses Dropbox dan berbagi file dengan email
Anda dapat menyimpan file Anda dengan Wetransfer dan berbagi file dengan email
Permintaan email kami untuk template bendera dan diskon untuk pesanan bendera pantai !
Tentang kami :
Kami berada di bidang percetakan selama 12 tahun. Kami memiliki 100 pekerja, 6 desainer profesional, 6 QC, 12 penjualan internasional, 3 insinyur, 6 lini produksi, dapat menghasilkan kualitas tinggi dan kompensabilitas produksi yang tinggi. Produk utama kami adalah Bendera Dan Spanduk , Vinyl Sticker dan poster, stand display ( Tension Fabric Display , spanduk gantung kain, Roll Up Banner , X Stand Banners ), Custom Table Covers dan kanopi cetak khusus. Sebagian besar bahan cetak kami memiliki sertifikat bukti api (B1) dan sertifikat SGS untuk tinta. Semua pelanggan kami berasal dari seluruh dunia. Kami bekerja sama dengan Hello Kitty, Disney sebelumnya. Selamat datang di pertanyaan Anda, kami akan memberikan harga pabrik terbaik dan pengiriman cepat.
Kategori Produk : Bendera pantai > Bendera bulu