10 FT Outdoor Advertising Teardrop Flag Banner:
Bendera terbang (teardrop flag) adalah cara yang bagus untuk mengiklankan bisnis Anda di luar rumah dan di dalam rumah. Bendera terbang yang ringan dan bersemangat adalah media periklanan populer yang digunakan dalam banyak aplikasi, mulai dari pameran dagang dan pameran hingga di luar jendela toko Anda atau oleh jalan dan acara olahraga dan sebagainya. Ada banyak jenis ukuran dan bentuk bendera terbang yang bisa dipilih. , seperti bendera pisau, bendera tetes air mata. Batang tegak lurus.
Bendera air mata kami dilengkapi dengan bendera cetak, batang fiberglass, tas jinjing dan basa, sehingga mudah dipasang, diangkut dan disimpan. Untuk mengetahui lebih lanjut tentang spanduk bulu atau spanduk terbang kami yang lain, hubungi kami untuk mengirimkan pertanyaan di situs kami. Kami akan mengandalkan Anda dalam waktu 24 jam.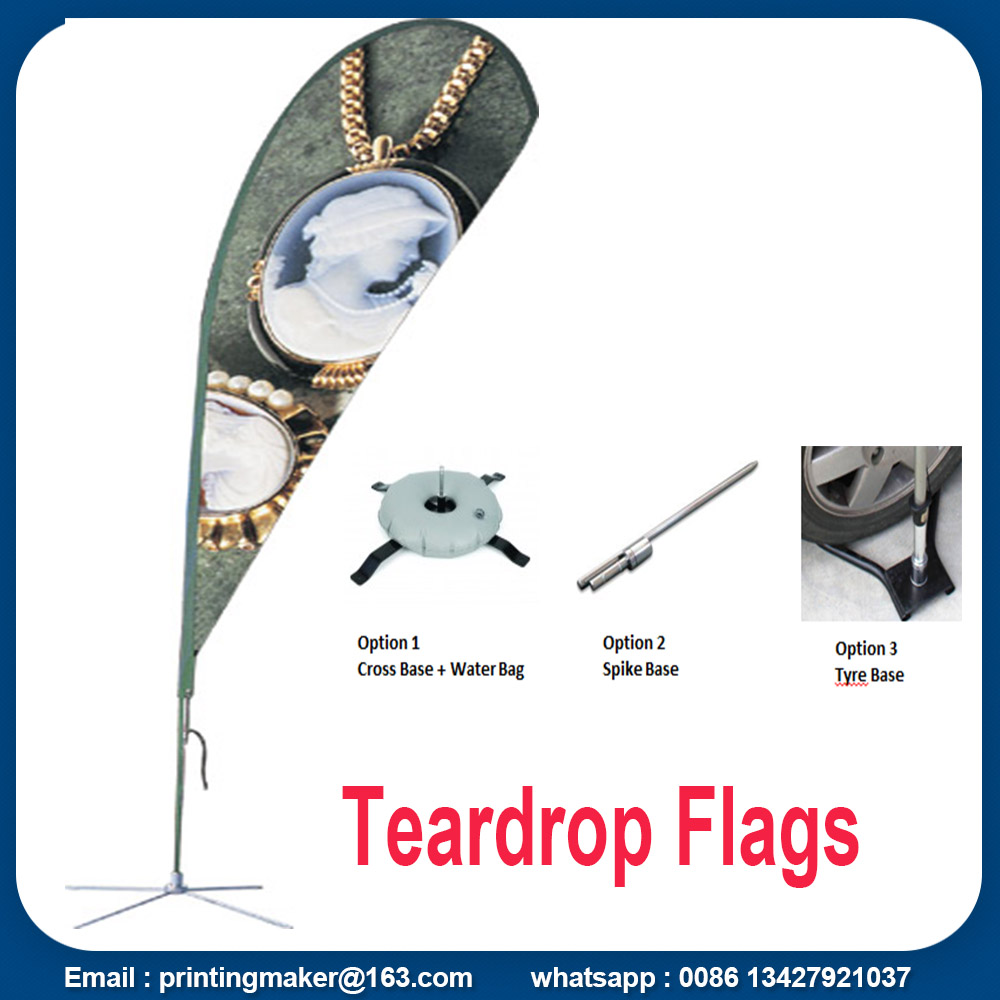 Spesifikasi:
Item
320cm Outdoor Tear drop Flag Banner with Cross Feet
Size
2.8m,3m,3.4m,4m,4.5m,5m,5.5m
Flag Material

110g Knitted Fabric

satin fabric

Pocket Material

600D oxford fabric

elastic fabric

knitted fabric

Pole Material

Fiberglass pole +aluminum pole;

full fiberglass pole(3m flag,4m flag,5m flag)

Printing Types

Digital printing;

dye sublimation printing (this quality is better)

Printed sides of flag
Single or double sides
Base Choice
Metal across;aluminum across ;ABS spike ;Chrome-plated iron spike
Packing
Each set has individual carry fabric bag
MOQ
1 set
fitur
pencetakan spanduk bendera tetesan air mata ukuran besar, ini memperluas grafis Anda untuk ditunjukkan
kami sarankan untuk menggunakan dasar piring atau dengan kantong air, itu membuat bendera lebih kuat di luar
masing-masing untuk menginstal dan menyimpan
Anda bisa membeli bendera tanpa tiang dan pangkalan
kita bisa mencetak ukuran bendera sebagai karya seni Anda
FAQ:

Bagaimana cara mengirim disainnya?
1. Kami menyediakan template untuk desain Anda atau Anda bisa mengirimkan karya seni dengan ukuran 1: 1 dengan 150-300 dpi
2. Berapa min order dengan flag ukuran kustom?
1 buah
3. Bisakah kita memesan saja bendera tercetak tanpa hardware?
iya nih
4. Anda bisa mencetak gambar yang berbeda di setiap sisi bendera dengan harga yang sama?
Ya, tidak masalah mencetak grafis yang sama atau berbeda, harganya pun sama
5. Apa garansi kualitas perangkat keras?
Satu tahun
6. Bagaimana cara melakukan pemesanan?
Silahkan email saya pertanyaan anda dengan email atau online, lalu kami kirim penawaran, begitu konfirmasi harga, kami akan mengirimkan template untuk disain, atau jika sudah ada, maka kirimkan saja ke kami, maka kami akan mengirimkan bukti untuk anda. persetujuan Anda, maka kami akan PI, pesanan akan diatur terhadap deposit dan keseimbangan akan terhadap pengiriman.
7. Apa istilah pembayaran anda?
Deposit 30% dan saldo terhadap pengiriman dengan T / T atau Paypal atau Western Union atau Money gram atau L / C
8. Berapa biaya sampelnya?
USD40 per set untuk berbagai ukuran bendera bendera air mata kita.
9. Berapa waktu tunggu sampel?
2-3 hari
10. Biaya sampel bisa dikembalikan?
Ya, jika jumlah pesanan lebih dari 100 set, kami akan mengembalikannya kepada Anda.
Tentang kami :
Kami berada di bidang percetakan selama 12 tahun. Kami memiliki 100 pekerja, 6 desainer profesional, 6 QC, 12 penjualan internasional, 3 insinyur, 6 lini produksi, dapat menghasilkan kualitas tinggi dan kompensabilitas produksi yang tinggi. Produk utama kami adalah Bendera Dan Spanduk , Vinyl Sticker dan poster, stand display ( Tension Fabric Display , spanduk gantung kain, Roll Up Banner , X Stand Banners ), Custom Table Covers dan kanopi cetak khusus. Sebagian besar bahan cetak kami memiliki sertifikat bukti api (B1) dan sertifikat SGS untuk tinta. Semua pelanggan kami berasal dari seluruh dunia. Kami bekerja sama dengan Hello Kitty, Disney sebelumnya. Selamat datang di pertanyaan Anda, kami akan memberikan harga pabrik terbaik dan pengiriman cepat.
Kategori Produk : Bendera pantai > Teardrop Flag