Adjustable Aluminium X Stand Banners 80 x 180 cm
Spanduk x stand aluminium disesuaikan kami berada dalam 0,7 kg x stand, dan spanduknya berukuran 60x160cm atau 80x180cm, tempat yang sama bisa dengan dua spanduk yang berbeda ini.
X banner stand adalah salah satu jenis display pameran dagang, sangat nyaman untuk dibawa dan mudah dipasang.
Biaya rendah dengan konten penuh ditampilkan di spanduk, bisa menarik perhatian pemirsa dengan baik.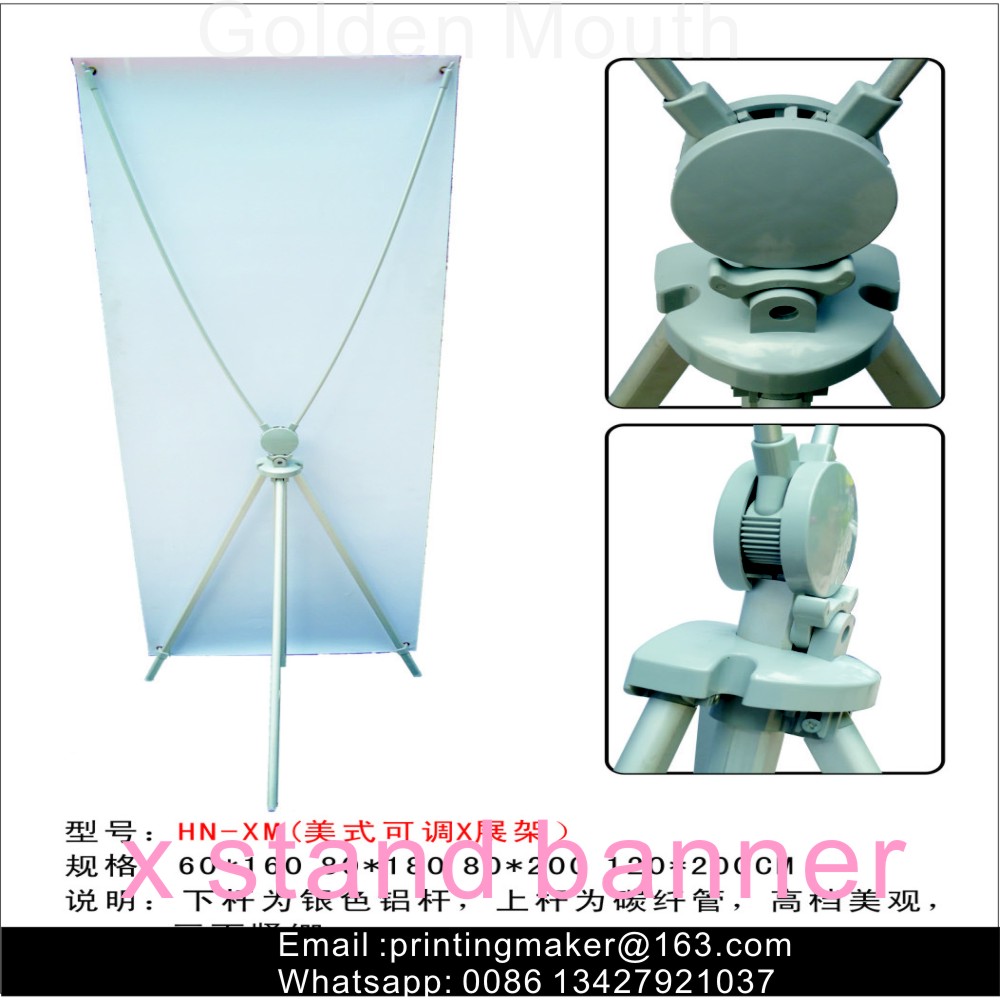 Spesifikasi:
Item
60*160cm x stand banners (adjustable aluminum x stand with pvc film banner)
Size
60*160cm or 80*180cm ,120*200cm
banner material

pvc film with lamination or without

Finished of products

grommets on the four corner of the banner

Eyelets/grommet Material




copper grommet

Printing Types

Digital printing;

injet printing

Advantage
ecomonic for advertising cost
Color
Full color printing
application
indoor and outdoor advertising show
MOQ
1 pcs
Kami beberapa x banner stand rincian sebagai berikut:
1. Harga bersaing, berkualitas tinggi
2. Bahan alumunium dan fiberglass
3. Penampilan bagus
Warna: Hitam kutub
Bahan: Pernis hitam di baja, tiang serat, bagian tengah logam
Ukuran grafis: W60xH160cm NW: 0.5kg
Packing: Tas carrry hitam untuk masing-masing, 30PCS / karton
CTN: 19x25x106CM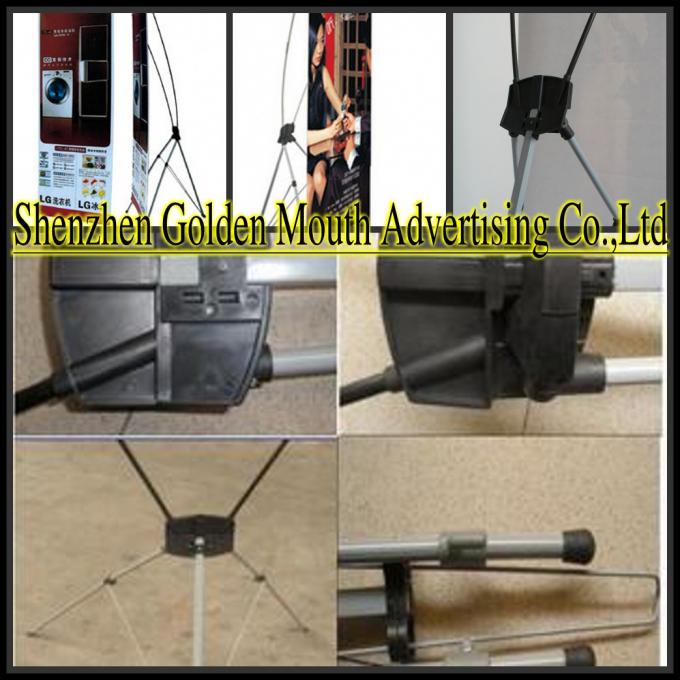 1. Harga bersaing, berkualitas tinggi
2. Bahan alumunium dan fiberglass
3. Penampilan bagus
Warna: Hitam / abu-abu tiang
Bahan: Tiang serat karton, bagian tengah plastik besar
Ukuran grafis: W60xH160cm
NW: 0.7kg
Packing: Tas carrry hitam untuk masing-masing, 40PCS / karton
CTN: 40x23x136CM.
FAQ:
1. Apakah spanduk tahan air dan tahan uv?
----Iya nih
2. Bagaimana Anda akan mengemasnya?
--- Menggulung spanduk dengan tabung dan memasang spanduk dan berdiri sendiri-sendiri.
3.
Berapa lead time untuk order yang lebih kecil (dalam 100 set)
---4 hari
4
. Apakah Anda memberikan layanan desain?
--- Ya, kami memiliki tim perancang profesional!
5.
Apa jenis karya seni yang Anda butuhkan?
--- pdf, JPG dengan resolusi tinggi (ukuran 1: 1), PSD, AI, TIF
6. Bagaimana kita melakukan pemesanan?
---- A, mengirim pertanyaan kepada kami
---- B, kami akan mengirimkan PI setelah everthing dikonfirmasi
---- C, Anda mengatur depositnya, lalu kami mengatur pesanan dan mulai berproduksi, kami akan mengirimkan beberapa gambar yang menunjukkan proses produksi dan produk jadi dan packing. Than anda mengatur keseimbangan pesanan.
7. Bagaimana cara pengiriman barang?
--- Dengan ekspres internasional (DHL, TNT, Fedex, UPS, kami akan menggunakan cara ekonomi terbaik untuk menghemat uang Anda), jika barangnya banyak dan berat, kami sarankan untuk menggunakan kapal.
8. Istilah pembayaran apa yang bisa anda terima?
--- Western Union; paypal; L / C; T / T
9. Bagaimana Anda mencocokkan warna kita?
--- Kami memiliki Pantone Book untuk mesin
--- Mesin cetak kami juga memiliki sistem untuk mengendalikan warna dan mencocokkan warnanya
Tentang kami :
Kami berada di bidang percetakan selama 12 tahun. Kami memiliki 100 pekerja, 6 desainer profesional, 6 QC, 12 penjualan internasional, 3 insinyur, 6 lini produksi, dapat menghasilkan kualitas tinggi dan kompensabilitas produksi yang tinggi. Produk utama kami adalah Bendera Dan Spanduk , Vinyl Sticker dan poster, stand display ( Tension Fabric Display , spanduk gantung kain, Roll Up Banner , X Stand Banners ), Custom Table Covers dan kanopi cetak khusus. Sebagian besar bahan cetak kami memiliki sertifikat bukti api (B1) dan sertifikat SGS untuk tinta. Semua pelanggan kami berasal dari seluruh dunia. Kami bekerja sama dengan Hello Kitty, Disney sebelumnya. Selamat datang di pertanyaan Anda, kami akan memberikan harga pabrik terbaik dan pengiriman cepat.
Kategori Produk : X Stand Banner